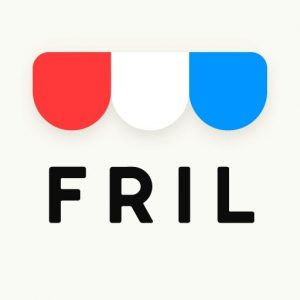 Introducing another popular online flea market APP —Fril it is!
Fril APP starts its operation in 2012, that is to say, it is the pioneer of Japan's online flea market APP.  Fril's original target customers are female population; therefore, people could only find lady apparels and accessories on Fril.  However, the head company changes its strategies and cancels the policy of "Lady Only".  Now, all generation can find their favorite goods on Fril!
Fril gets its appeal from its "No transaction fee" policy.  For sellers who are still hesitating on whether to choose Mercari or Fril—this is a big incentive!!  Mercari is free on all listing fees, however, when the deals are done, sellers need to pay up to 10% transaction fees to Mercari, in the end, and most sellers will increase listing prices for better profits!  Need to explain more?  Fril's "no transaction fee" is more attractive to sellers and buyers!!
Major differences –Fril and Mercari:
★ No transaction fees
★ "My Favorite" function to keep track on buyers' favorable goods
★ Sellers can apply for "Approval Application" function: Sellers have the rights to decide whether to sell upon buyers' request for transaction approval.
★ Users are mostly women
Looks like Fril is a very competitive opponent for Mercari, but Mercari is still winning way ahead, especially in customer population. In September 2016, Fril was purchased by online shopping magnate Rakuten!  With this acquisition, Fril's future success is highly expected! It is a win-win for consumers!
Official websites for Fril(フリル)
vv.Japan is your best choice to find goods on Fril, Mercari, Rakuma and Otamart APPs! We charge only 500 Yen for handling fees!