Known well as high performance sneaker brand  SPINGLE , the  manufacture located in Bingo district Hiroshima Japan started "Spingle Move" brand in 2002.
At a glance SPINGLE's design is European classy brand, be nominated at Paris Milan collection, world widely approved brand.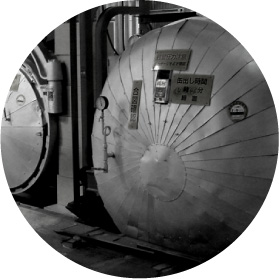 Vulcanization Method
SPINGLE have almost 80 yeas history and is a famous established manufacturer of sneaker at Bingo district in Hiroshima Japan.
Vulcanization is common method of rubber products, ie to put rubber include sulfur into oven and give high pressure and heating, then rubber get to have elasticity. Spingle method is to bond Upper and Out Sole by Vulcanization, which is stronger, no deformation, no peeling soles and more flexible shoes.
Basically Vulcanization method need more hand working, much more labor, therefore, now a days, it is seldom to use this method in Japan,  rarity value is very high.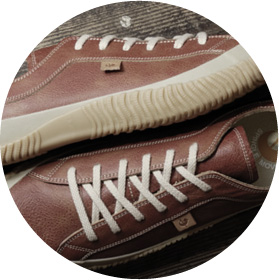 Structural Design
SPINGLE apply "捨て寸 Sute Sun" structural design which has some gap at toes for easy to be flexural at base of toe. It is important to fit width of foot instead of foot length with disregard this Sute Sun.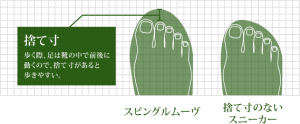 Up-Curved Sole
SPINGLE's unique point is Up-Curved shape sole. This design gives comfort to walk. For high performance of bending, SPINGLE use natural rubber and make special recipe of rubber compound by their experienced workers.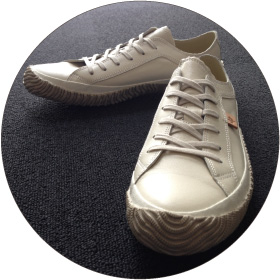 Carefully Chosen Materials
SPINGLE select the most suitable material for upper part of shoes. For inner sole, natural latex rubber is used which is used for cosmetic puff, too. Which have excellent restoring and give foot comfort.

Value of Experienced Craftmen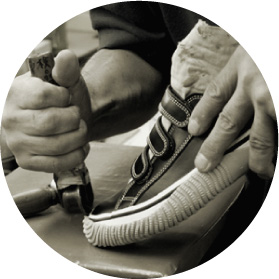 To buy SPINGLE Sneaker, please visit our site.
Proxy shopping of SPINGLE Sneakers